It is time for our weekly show and tonight's czechhunter will be in public. Some of our catches are in a hurry, so we have to take it outdoor, in public, as long as they don't have a problem with that. This straight young man accepted to suck my cock for some cash and he also let me play with his cock. We said that he never had and experience like this before, but I really loved the way he enjoyed the whole thing. I might been turned him gay.
Well, on the streets of Prague a young man was sitting on a bench in the central park. He was talking on the phone about some money and the fact that he does not have them yet. So after he hang out, he put his head on his palms, sighing. We realized that this is our guy. We approach and we came with our offer. He seemed trilled and I started to think that he was gay. He wasn't and that was pretty clear after I shoved my huge cock into his tight ass. But before that, I grabbed his cock and got it hard, just to finish him with a hard hand job. He spread his legs and I got his ass destroyed in no time. Cum inside and enjoy the great finale where dribble of cum will run down his chin.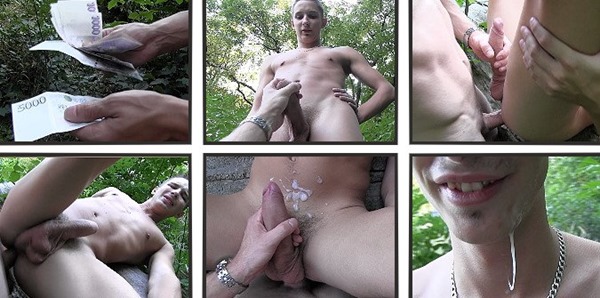 Check out this straight guy getting fucked in public!