Hello there studs! How are you doing lately? Are you still so busy with your work? Well, we thought that it was about time you took a break and enjoy some of ours latest czechhunter sex scene! So how about taking a break and watching what we have prepared for you today, huh? We are starting this cloudy day with the same Czech guy that is going to play to us today the episode nr. 157 from his journey in this beautiful country! It seems like he got quite an interesting journey over there and there are a lot of eager guys to fuck and get fucked in exchange of an amount of money! How about seeing what happened today, shall we?
Our crazy dude was today seeking for a hot guy that was willing to shove his hard cock down his throat and it seems like he found him sooner than he ever thought! After received our dude's offer, they went to a place where no one could disturb them and this new dude started to rub our guy's fat cock! After counting the money and putting them in a safe place, he took that hard tool into his mouth until it was hard enough for that deep and intense penetration that was about to follow! Next thing we know that our guy penetrated this guy's anus hole from behind while he was rubbing his hard tool! Soon after that he started to tease this dude's penis by rubbing it right before getting on top of it! In the end, both of them came i the same time while one was filling the other guy's butt and the other was cumming all over the floor! If you wanna see much more czech hunter amazing scenes around here, just join us and we will give you full access!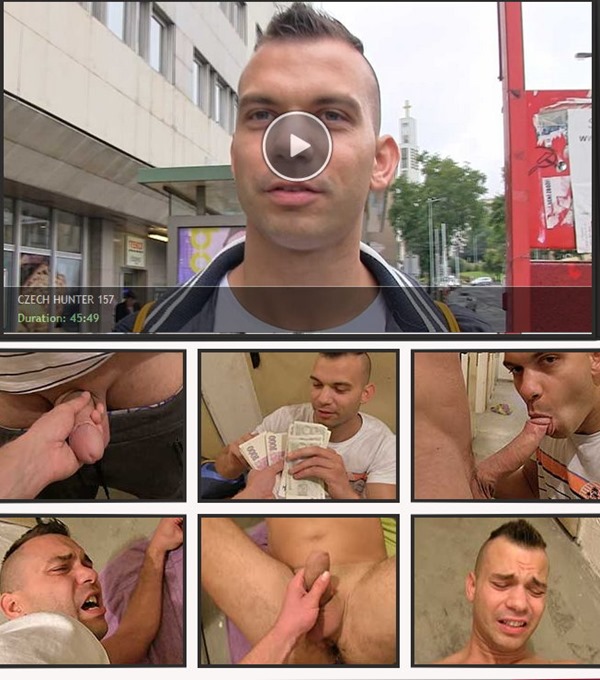 Watch this muscled guy sucking and fucking for money!