Hi there once again! I know that you are ready for our weekly hot scene strait from the streets of Prague. Tonight you are going to enjoy this hot catch of our. He is a broken student who desperately needed money and when we founded him was the perfect timing. We came with a very good offer and he could not say no to us. Let's see his performing.
Isn't Prague the best capital in the world? I think it is because of her potential. You will find there whatever you want. As you well know, we found a straight dude every week for our scenes and he will do whatever it takes for some cash, because we will make sure they are broke or need some money urgently. This one needed some money, so he accepted our offer. He was also in a hurry, so we went in the nearest park. We love when that happens because they don't have time to change their minds. So he wrapped his lips all over my cock from the very beginning just to finish faster. But that was not all. His ass was also destroyed and he moaned loudly when my cock went balls deep inside his tight ass. Watch him getting covered in creamy jizz for the great ending. Have fun, my friends, with this amazing public sex scene!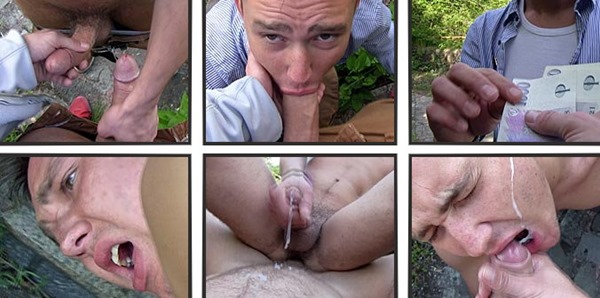 Check out stud getting hammered for some money!